Your Adventure Begins Here
Nestled in the chaparral and sage scrub of Mission Trails Regional Park is the Visitor Center. Every day, park visitors come by the Visitor Center before they embark on hikes or to cool down after an excursion. Explore and learn about the wonders of nature and the people who once lived on this land.
Before venturing into the park, stop by our award-winning Visitor Center which boasts a stunning view of Mission Gorge. Through the Center's many educational exhibits, learn about Mission Trails' history, natural plant and animal communities and the various activities and destinations available within the park.
Spend time in the Center's library, enjoy the regular art exhibits, and pick up unique gifts, books and Mission Trails branded items at the Visitor Center Gift Shop. The Mission Trails Regional Park Foundation's administrative office is located at this facility, and Foundation staff are onsite on weekdays. To reach the MTRP Foundation, call 619-668-3280.
Films at the MTRP Visitor Center
Guests to the MTRP Visitor Center can choose from a number of films to watch, free of charge, in Center's 94-seat theater. To have films started, guests simply make their request known to the volunteers at the Visitor Center's front desk. The theater is temporarily closed, but when open, the below films are available to view.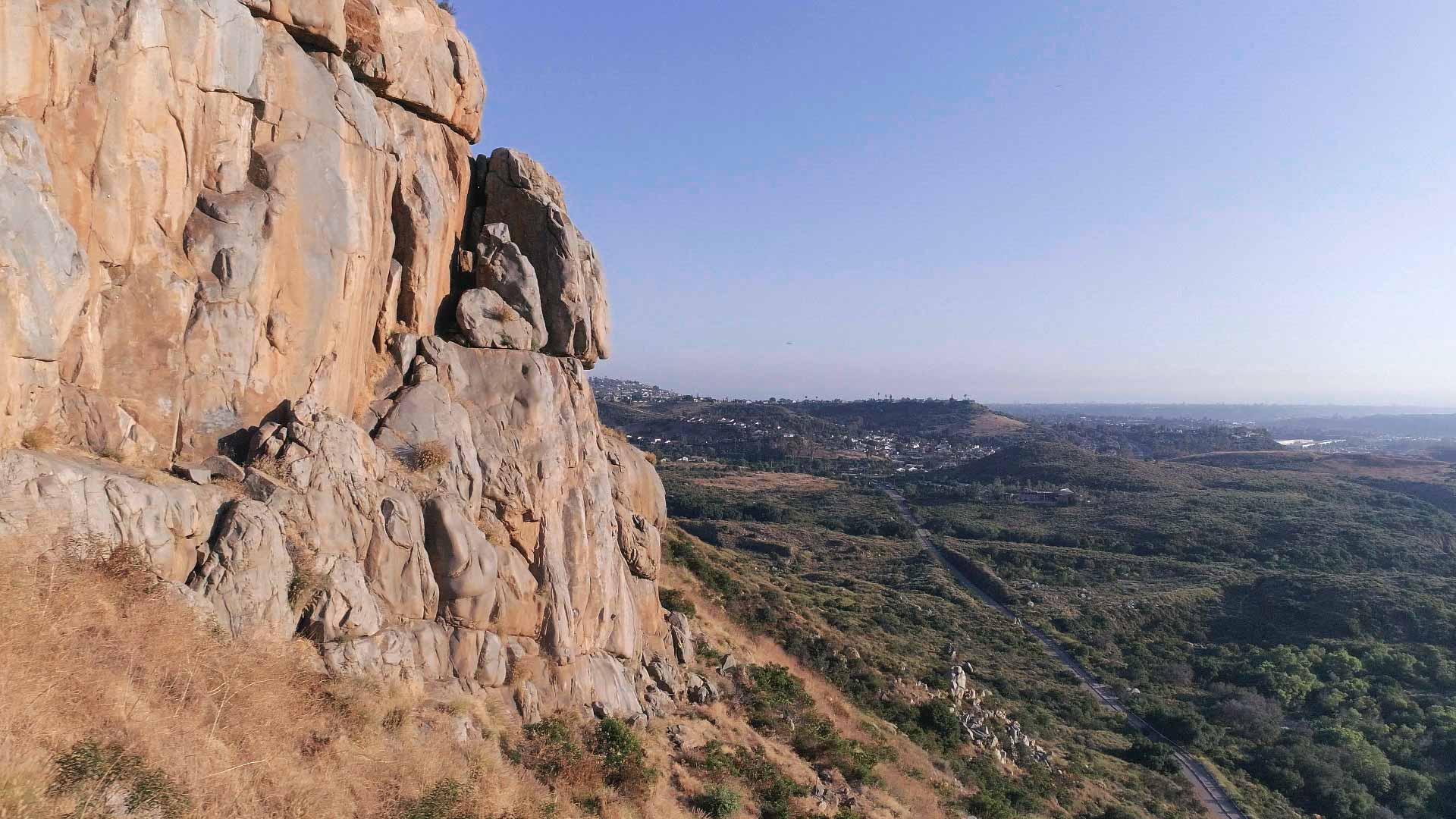 Rise and Fall of the Mountains at Mission Trails Regional Park, an Emmy Award-nominated film, features geologist Patrick Abbott, professor emeritus at San Diego State University, explorer, guide, and author of several books including Geology of Mission Trails Regional Park. Dr. Abbott takes viewers on a geological tour of the park. Learn about how the geologic events that took place millions of years ago shaped Mission Trails and caused the rise and fall of the park's mountains, enjoyed today by scores of San Diego County residents and visitors. The film is nearly 20 minutes and is suitable for all audiences.
Rise and Fall of the Mountains at Mission Trails Regional Park was produced by the Mission Trails Regional Park Foundation and De Facto Fiction Films, and supported with funding from the City of San Diego, San Diego Association of Geologists, Betty and Mike Ogilvie, Linda and Bob Gordon, and additional donors to the MTRP Foundation.
Stewardship through the Ages, released in February 2000, is a video about the people – Native Americans, Spanish, Mexicans, Americans – that have been an integral part of the landscape that has become Mission Trails Regional Park.
Mission Trails Regional Park: A Natural Beauty, is an inspirational slide show depicting the beauty that is Mission Trails.
Mission Trails Regional Park…Link with the Past, Experienced Today, is a video presentation detailing some of the history and recreational opportunities afforded in Mission Trails.
Trails of the Kumeyaay, highlights the local indigenous people, their culture, traditions and beliefs up to the present day.
The other films shown at the Visitor Center theater are not available for online viewing.
Mission Trails Regional Park Visitor and Interpretive Center
One Father Junipero Serra Trail, San Diego CA 92119
619-668-3281
Temporary Hours (as of August 2021): 11 AM – 3:00 PM
Closed: Thanksgiving Day, Christmas Day and New Years Day





Facility Use for Special Events
The Mission Trails Regional Park Visitor Center is a unique and beautiful venue for after-hours events such as weddings, corporate gatherings, retirement parties, anniversaries, nonprofit fundraisers and celebrations of life. To receive information about renting the facility, visit the Rentals page or contact the Mission Trails Regional Park Foundation via email at events@mtrp.org. Please note that the facility is available after business hours, from 5PM until 11PM.