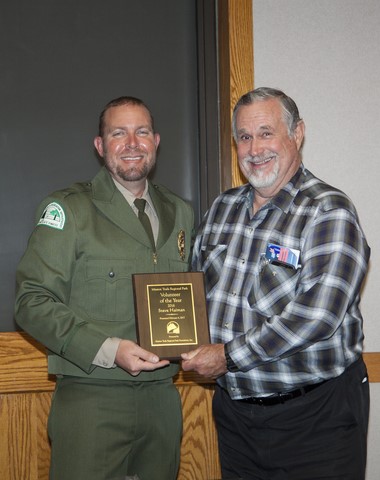 Ryan Robertson, Senior Park Ranger
Ryan Robertson is the Senior Ranger for Mission Trails Regional Park, responsible for the management of the park since 2016. He formerly was the Senior Ranger for Balboa Park, and has served as a Ranger for the City of San Diego since 2007. A native San Diegan, Ryan graduated from San Diego State University with a B.S. degree in Recreation Administration with emphasis on Outdoor Recreation, and also holds an Associate's Degree in Physical Geography from Grossmont College. Ryan enjoys family time with his wife and two children, keeping busy with youth sports, camping and remodeling projects.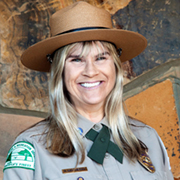 Heidi Gutknecht, Park Ranger
Heidi Gutknecht has been a Park Ranger with the City of San Diego since 2001, and transferred here to MTRP in 2005. Prior to working for the City, she worked at Kartchner Caverns and Tonto Natural Bridge State Parks in Arizona, and at Placerita Canyon Nature Center for L.A. County Parks. She graduated from Cal State Northridge in 1993 with a B.S. degree in Outdoor Recreation, and completed a summer internship in Alaska for Kenai Fjords National Park. Currently, Heidi runs the monthly volunteer Habitat Restoration Crew, and helps control the spread of invasive, non-native plants throughout the park. She also loves nature and enjoys sharing her contagious enthusiasm with others.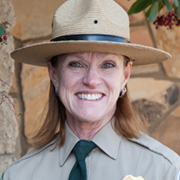 Chris Axtmann, Park Ranger
After a career in the publishing industry, Chris Axtmann decided to trade in her desk for hiking boots. Lifetime nature lover, she began volunteering at Mission Trails Regional Park in 2008. Completing the Park's Trail Guide Training class, she donated much of her time educating the public during Trail Guide led nature walks, aided our patrons as Trail Patrol, staffed the Visitor Center front desk and gift shop, and assisted the Foundation at outreach events. A graduate of California State Parks Academy, Chris was ecstatic at being hired by the City as a Park Ranger and the opportunity to apply her training and her knowledge of our city's largest open space park to its care and preservation, maintaining and enhancing recreational opportunities. Chris manages the park's Trail Guide volunteer program and schedules the group's free guided walks as well as special group walks in the park.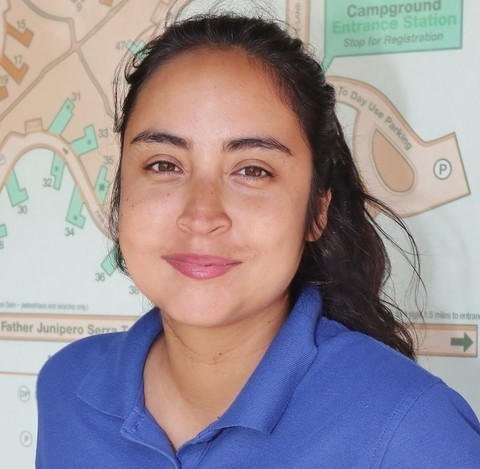 Jennifer Canales, Center Director - Kumeyaay Lake Campground
Jennifer has been with the City for the last 7 years as a Recreation leader where she ran ceramics programs, coached and refereed flag football, and ran summer camps for various locations in Community Parks I. As Assistant Center Director for the North Clairemont Friendship Center, a Senior Recreation Center Jennifer was responsible for fully furnishing the facility and keeping ongoing programs running as well as opening up the space for new senior user groups and activities. Jennifer enjoys watching cooking shows and then being inspired to cook something similar,  spending time with her family, and traveling with her husband.
Julie Aeilts, Park Ranger
A graduate of San Diego State University (SDSU), Julie began working as a Ranger Aide at Mission Trails Regional Park in September 2014. After moving from her rural hometown of Oakdale, located near the Stanislaus National Forest and the mountains where she enjoyed her spare time, she enrolled at SDSU to study English. She soon realized she was influenced by her experiences in nature and redirected her focus to recreation administration with an outdoor resource emphasis. She worked for SDSU's student newspaper as a copy editor and eventually the copy chief, while also interning at Mission Trails. Julie finds rejuvenation in most forms of outdoor recreation, primarily hiking and backpacking, and always has her camera and a set of watercolors on-hand.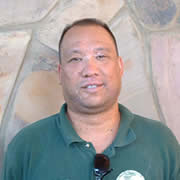 David Lee, Visitor Center Director
David joined the Mission Trails Regional Park in May 2004 as Center Director I at the Kumeyaay Lake Campground. His responsibilities include assisting the Ranger staff and managing the operation of the Kumeyaay Lake Campground. He has worked for the City of San Diego Park and Recreation Department for ten years. In October 2006, David was promoted to Center Director at the Mission Trails Regional Park Visitor Center. In his spare time, David enjoys Las Vegas trips, bike riding, walking his dog and playing basketball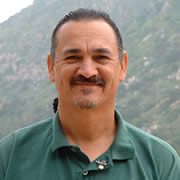 Carmelo Esquer, Grounds Maintenance
A native of California, Carmelo graduated from SDSU with a BA in art with emphasis in sculpture. He has worked in landscaping and has been a managing supervisor of office furniture installation. Prior to becoming a grounds maintenance worker, Carmelo volunteered at Mission Trails for three years, as patrol, trail guide and worked on both Trail Improvement and Park Beautification teams. His hobbies include painting, ceramics, restoring old cars, fishing and hiking.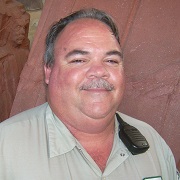 Tom Folk, Grounds Maintenance
Tom is a native Californian and has been a resident of San Diego all of his life. Tom worked for Children's Hospital for eight years in landscape maintenance, then was hired by the City of San Diego as an experienced Grounds Maintenance Worker II. Tom spent about eight years in Balboa Park. His work there resulted in his gardens being featured in coffee table books, calendars and post cards. Tom now enjoys the challenges of working in Mission Trails.

Jennifer Morrissey, Executive Director, MTRP Foundation
A nonprofit leader with more than 20 years' experience, Jennifer Morrissey's expertise includes strategy development and program execution in the areas of marketing, public relations, fundraising, and community outreach, and her work contributed greatly to the growth and impact of past organizations she supported including the Museum of Contemporary Art San Diego, Timken Museum of Art, and Voices for Children. At the Mission Trails Regional Park Foundation, Jennifer calls upon her experience and knowledge of the San Diego community to successfully steward, sustain, and advance the initiatives of Mission Trails Regional Park. Jennifer enjoys spending time with her husband and two children, is an avid gardener, and Board member of the San Diego Horticultural Society.