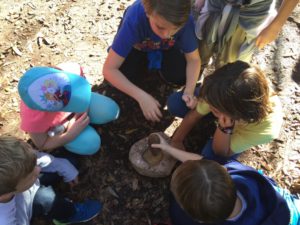 With over 8,000 acres of pristine San Diego habitat rich with local flora and fauna, and cultural sites unique to our park, it's no wonder Mission Trails Regional Park remains a top destination for outdoor education. Our Park Ranger-led field trips take students on local trails where they can experience wilderness firsthand. Students leave with a newfound appreciation for these special open spaces and a better understanding of why we need to protect them.
MTRP Ranger-led field trips are available from 9:00am to 1:00pm on Tuesdays for third grade field trips, and Thursdays for all other grades. Interpretive Rangers have developed specialized programs specific to individual grade levels that meet the California Next Generation Science Standards and support curriculum currently being taught in the classroom. Most of MTRP's field trips begin at the MTRP Visitor and Interpretive Center and include a 1.5 to 2-hour guided hike, followed by lunch in the outdoor amphitheater, a scavenger hunt and tour of the exhibit hall, and a movie presentation in the theater.
Know before you schedule
Ranger availability fluctuates, so while we can accommodate more than 60 students per day, please add a comment when you submit your reservation request and await a follow-up email before reserving bus transportation.
Educators are expected to read through the educator's packet before scheduling a field trip. After making your reservation, educators will receive a confirmation email, followed by a personalized email either requesting additional information or confirming your field trip.
Self-guided field trips are available to reserve on Mondays only, and Foundation-led field trips can be scheduled on Wednesdays and Fridays.
Please contact Park Ranger and Education Coordinator Julie Aeilts at rangered@mtrp.org for more information