at the MTRP Visitor and Interpretive Center

The Mission Trails Regional Park (MTRP) Foundation organizes the art exhibitions on view at the MTRP Visitor and Interpretive Center, presented for the enjoyment of the Center's more than 80,000 annual visitors. The art exhibitions showcase one artist or groups, and are staged for a period of six weeks. Artworks include wall-hung, two-dimensional, and three-dimensional pieces.
Selected artists have been juried by a panel of working artists and arts educators and the artworks are in a range of media including paint, clay, photography, pastel, fiber, colored pencil, mixed media, and more. For most of the exhibitions, the artists host an opening reception which members of the public are welcome to attend. A portion of artwork sales supports MTRP through the Mission Trails Regional Park Foundation.
Applications for exhibitions are only available and accepted from May 1 through June 30 for the next year. The entry deadline for 2020 is June 30, 2019. Click here for the application.
For more information about the Art Program, please contact Vicky DeLong.
---
Lesley Goren: California Tapestry
June 22 – August 3, 2019
Opening Reception: Sunday, June 23, 2 – 4PM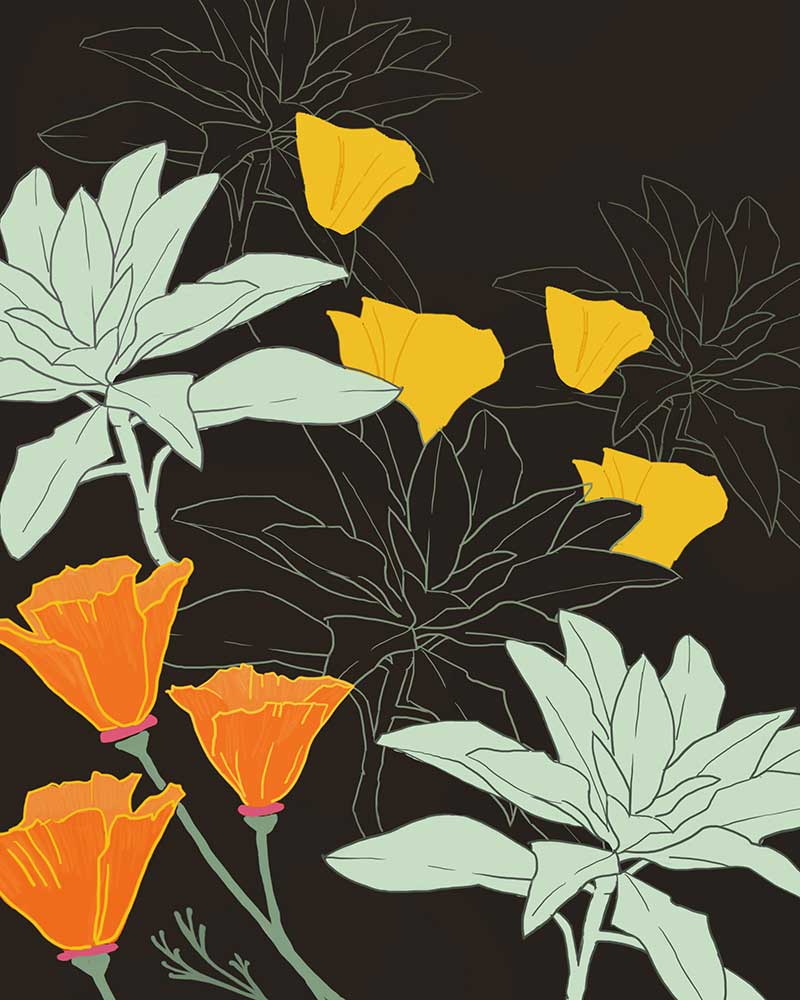 On view at the Mission Trails Regional Park (MTRP) Visitor and Interpretive Center June 22 through August 3, 2019 is an exhibition by Los Angeles-based artist and illustrator Lesley Goren, whose lively and colorful images of plants and flowers are a self-described "love note" to the native vegetation of Southern California. The works in California Tapestry include cheerful drawings of Scarlet Monkey Flowers (Mimulus cardinales), Shooting Stars (Primula clevelandii), and Yellow Mariposa Lilies (Calochortus luteus) that serve as beautiful reminders of the importance of nature and place.
To commemorate her exhibition at the MTRP Visitor Center, Lesley Goren has created two new custom greeting card designs for Mission Trails Regional Park to be sold in the Visitor Center's Gift Shop beginning in late June. The designs highlight the leaves and flowers of Mission Trails. Artwork featured in the exhibition will be available for sale, and a portion of the funds will support the park through the Mission Trails Regional Park Foundation. This reception is complementary and no reservations are required.
The MTRP Visitor and Interpretive Center open daily from 9AM-5PM and admission is free.
---
2019 Exhibitions
Natural Instincts
January 5 – February 15, 2019
Otto Kruse
Weinberg-Harter
Joey Edwards
Thia Nevius
Bill Rainer
Caroline Morse
Chris Waters
Gerry Tietje: Nature in Focus
February 16 – March 29
Natural Impressions
March 30 – May 10
Tom Franco
Margaret Larlham
Ralph Kingery
Catie Somers
27th Annual MTRP Amateur Photo Contest
May 11 – June 21
Lesley Goren: California Tapestry
June 22 – August 2
San Diego Museum of Art Artists Guild
August 3 – September 13
Art Telling – It All Begins With a Word
September 14 – October 25
Ellie Hitchcock
Gail Woods
Sue Britt
Lynn Daniel
Pat Aiken
Joan Boyer
Deb Gargula
Vicky DeLong
Group Exhibition
October 26 – December 6
Julianne Ricksecker
Kenda Francis
Ellen Parry
Laura Lehman
Student Exhibition
December 7, 2019 – January 3, 2020
Artists represented above (left-right): Helen Shafer Garcia, Ralph Kingery, Lesley Goren, Bill Rainer, and Sue Britt