Warning signs, such as the one shown in the photo, have been installed in several locations in Mission Trails Regional Park (and throughout the neighboring Tierrasanta community). A safety notice is also available at trail kiosks in the park.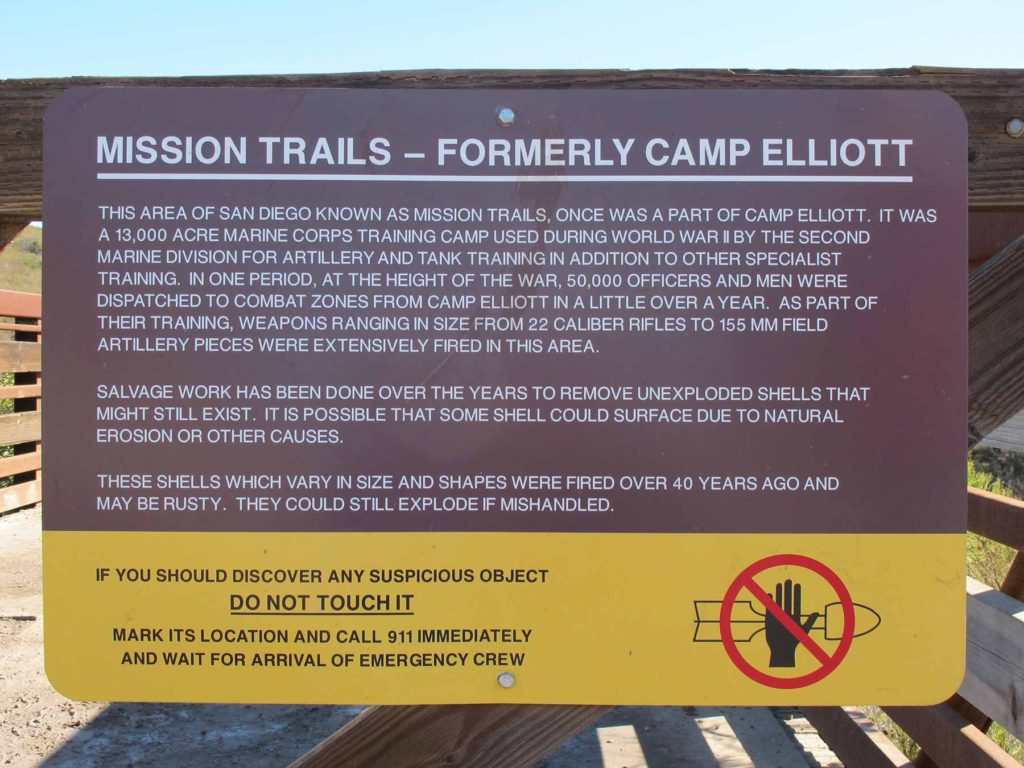 The sign reads:
Mission Trails – Formerly Camp Elliott
This area of San Diego known as Mission Trails, once was a part of Camp Elliott. It was a 13,000 acre Marine Corps Training Camp used during World War II by the Second Marine Division for artillery and tank training in addition to other specialist training. In one period, at the height of the war, 50,000 officers and men were dispatched to combat zones from Camp Elliott in a little over a year. As part of their training, weapons ranging in size from 22 caliber rifles to 155 mm field artillery pieces were extensively fired in this area.
Salvage work has been done over the years to remove unexploded shells that might still exist. It is possible that some shell could surface due to natural erosion or other causes.
These shells which vary in size and shapes were fired over 40 years ago and may be rusty. They could still explode if mishandled.
If you should discover any suspicious object DO NOT TOUCH IT: mark its location and call 911 immediately and wait for arrival of emergency crew
For more information on the past military use of the area, please visit the U.S. Army Corps of Engineers, Los Angeles District's website for the Camp Elliott project. Or, read a Fact Sheet regarding ordnance at Mission Trails Regional Park.
Information is also available at the Visitor's Center, and at the Tierrasanta Library (4985 La Cuenta Drive, San Diego, CA 92124).