While the MTRP Visitor Center is open daily from 9am to 5pm, all in-person, Ranger-led field trips are still not yet available for booking. However, in an effort to supplement student curriculum and provide the quality outdoor education experiences our educators expect, we are offering virtual programming and self-guided field trip opportunities. Please contact Park Ranger Julie Aeilts at
rangered@mtrp.org
for more information and to check availability. Thank you for your patience.
1) Download Packet. For information on the field trips offered for Kindergarten through 6th grade, please download the Teachers' Packet. Reservations for all other grade levels, or other organized groups, may be made by contacting the Education Ranger directly at (619) 668-3201, or at: RangerEd@mtrp.org
2) Confirm School Logistics. Before you reserve a field trip date, you must have all of your other ducks in a row: school bus reservations made, parent permission slips received, etc.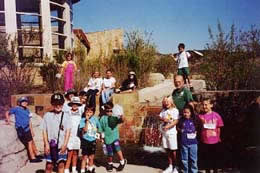 3) Choose Options. Select which type of trip you would like (Self-Guided or Ranger-Guided), followed by your grade level, and then an available date from the calendars.
4) Click On Available Calendar Date. Any day highlighted in the calendar (click the tab above on the right to see the School Trips calendar) below is available for a field trip. Field Trips are granted on a first-come, first-serve basis by the MTRP Education Ranger.
5) Register Online. Fill in the reservation request form, answer the website security question, and click on the register button to submit your request. A confirmation e-mail will be sent when your request has been processed.
3rd Grade Note: If you have 1 or 2 classrooms and your preferred date is blocked, contact Ranger Julie Aeilts. There are opportunities to do Visitor Center Activities first, followed by the program hike.
Other Downloads: